First City Quilts LLC - July Newsletter

Don't forget to mark your calendars. Every first Saturday we demo a new item and have Show & Tell. Enter for a chance to win the demo item just for watching and also a chance at a gift certificate for bringing a Show & Tell item.



20% off your backing

if you bring in the top! We love seeing your projects and we don't care if you bought the fabric from another shop. Bring it in so we can be inspired and get 20% off your backing EVERYDAY!!! Includes wide backs and minky!

Any gift cards purchased from Meadows Quilting & Sewing will be honored through 12/31/2017 by First City Quilts LLC.

Did you participate in the Patriotic Saturday Sampler?




We are opening our classroom to our Saturday Sampler customers to spend this Friday, July 14th (10am-5pm) and Saturday, July 15th (10am-3pm) working on your blocks and finishing kits.




Seats are limited so you need to call in advance to reserve your spot!



Monthly Groups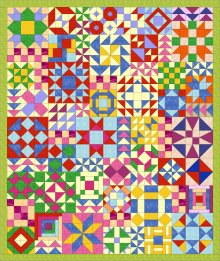 Women of the Bible with Connie & Maria
1st Thursdays 10:30am-1:30pm $10




Hand Embroidery Club with Vicky $20
Second Wednesday 6-8 pm OR
Second Thursday 10:30am - 12:30pm

Upcoming Classes

Collage Quilt Basics with Maria $30 (includes kit)
Wednesday, August 2nd 10:30am - 2:30pm OR
6:00pm - 9:00pm



English Paper Piecing with Tia $30
Tuesday, July 18th 6:00pm - 9:00pm



Free Motion Quilting with Tia $50
Saturday, July 27th


Sew-In
Friday, July 28th 9am-9pm $10
Saturday, July 29th 9am-9pm $10
Come and sew with us all day!!! Bring snacks to share and work on your PHD, UFO, WIP, STP, Row by Rows and anything else you need to finish!


1st Thursday - 10:30am-1:30pm Women of the Bible w/Connie & Maria $10
1st Saturday - 10:30am Free Demo and Show & Tell - Prizes!!!
2nd Thursday - 10:30am-12:30pm Hand Embroidery Club w/Vicky $20
3rd Tuesday - 11:00am-4:00pm Quilts of Valor Sew Day
4th Thursday - 6:00pm-8:30pm Applique Group




First City Quilts LLC
www.firstcityquilts.com
info@firstcityquilts.com
913-682-8000
200 S 5th Street
Leavenworth KS 66048
Mon-Fri 10am-5pm Sat 10am-3pm