Newsletter 9-1-16
Sept 1, 2016

Come help us finish the birthday celebration tomorrow with...


FABRIC


Buy 2 yards get 1 FREE!!! (equal or lesser value, min 1yd cuts, excludes specialty fabrics)
2016-17 New Saturday Sampler
Not able to come Saturday?
We've got you covered!!!



Block #1 - Leavenworth 9-Patch

We know we are starting our program on a holiday weekend and understand if you can't make it this Saturday to get your block. NO WORRIES!!! Just click on this link and pay your sign-up fee to reserve your first block. Come in anytime next week and pay $5 for your first block and then just make sure you have your block done by October 1st so you can get your next block FREE!!!
Our 2016 - 2017 Saturday Sampler was inspired by Leavenworth's very own Quilter Hall of Fame Honoree, Carrie Hall (1866-1955). Blocks will be in a patriotic colorway with Stonehenge/Marblehead fabrics. Program is 9-months from September 2016 through May 2017. Sign up fee is $15.

Bring your finished Block #1 to the shop between 10am-12pm on Saturday, October 1, 2016 and receive Block #2 FREE!!! If you don't finish your block or bring your block in before 12pm on the first Saturday, the next block will be $5.

We will have a demonstration at 10:30am and a drawing for all demo attendees to win the demo item! After demo drawing we will have a Show & Tell where customers can bring in their latest finished projects and be entered into an additional drawing!

Are you one of our out of town customers? Now you can participate in the Saturday Sampler too!!! Register online and pay your $15 sign-up fee. We will contact you for your billing and shipping information. You will be charged $5 + actual shipping cost per block each month. At the end of the program, if you choose to purchase the setting kit, we will deduct your $15 sign-up fee from your kit price. This is the first time we have offered the Saturday Sampler to our online customers.



New Block of the Month
Be Attitudes Quilt
by Nancy Halvorsen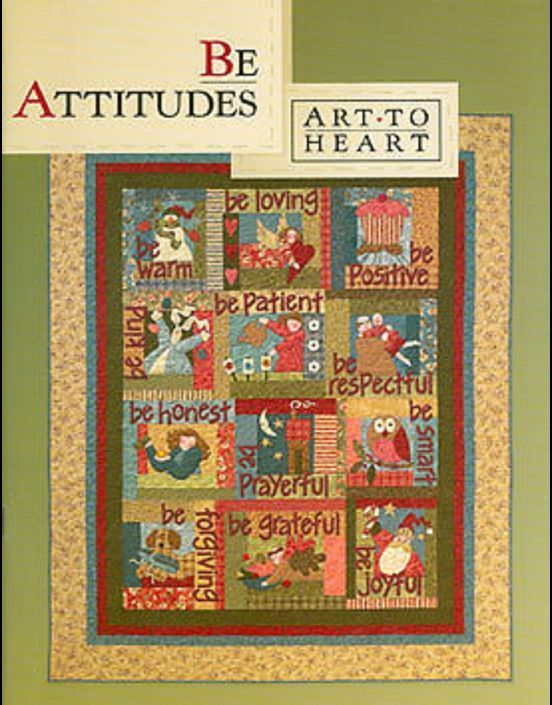 $19.99 Sign-up fee, $19.99/mo
Starts in September
Includes fabric for blocks, borders and binding, embroidery floss, decorative buttons, and enough fabric to applique using either fusible or turn-under technique.
Want to learn how to quilt but don't know where to start? Click on the image above and register for a 3 session Intro to Quilting class. Morning and evening classes available. Class fee $100 includes fabric.

Sept 3 - Saturday Sampler Block #1 10:00am-12:00pm
Sept 6 - Tahoe Tote Bag w/Maria 10:30am-2:30pm
Sept 7 - SPQG Compassion Quilt Sew-In 10:30am-5:00pm
Sept 7 - Quilting 101 w/Robin 6:00pm-8:00pm
Sept 8 - Intro to Hand Embroidery w/Vicky 10:30am-12:30pm
Sept 9 - Hexified Panel Part 1 w/Liz 10:00am-4:00pm
Sept 9 - MINI Hexified Panel Part 1 w/Liz 5:30pm-9:30pm
Sept 10 - Kids Sewing Club Reversible Headbands 10:30am-2:30pm
Sept 13 - Machine Embroidery Club Tea Towels 10:30am-12:00pm
Sept 14,21 & 28 - Quilting 101 9:30am-11:30am
Sept 14,21,28 & Oct 5 - Quilting 201 12:00pm-3:00pm
Sept 15 - Pins & Needles Sewing Club Upscale Linens 10:30am-12:00pm
Sept 16-17 - 24 hour Pillowcase Challenge for QOV 9am-9am
Sept 17 - Sew-In 9:00am - 9:00pm
Sept 20 - Quilts of Valor 11:00am - 4:00pm
Sept 22-24 - Nine Patch Bus Trip
Sept 27 - Ruffle Skirt Class 10:30am-1:30pm OR 6:00pm-9:00pm
Sept 29 - T-Shirt Quilts 6:00pm-9:00pm
ALL ABOARD
Sept 22-24
3 days, 2 nights, meals and snacks
1st stop – Eudora, KS
2nd stop – Holton, KS
3rd – Gretna, NE
4th – Ankeny, IA
5th – New Ulm, MN
6th – Hayward, MN
7th – Jesup, IA
8th – Creston, IA
9th – Leavenworth, KS
Meadows Quilting & Sewing

Meadows Quilting & Sewing
www.mqsew.com
913-862-8000
200 S 5th Street
Leavenworth KS 66048
Mon-Fri 10am-5pm Sat 10am-3pm