Newsletter 8-18-16
Aug 18, 2016

Register by Aug 31st and you could win a $50 gift certificate!!!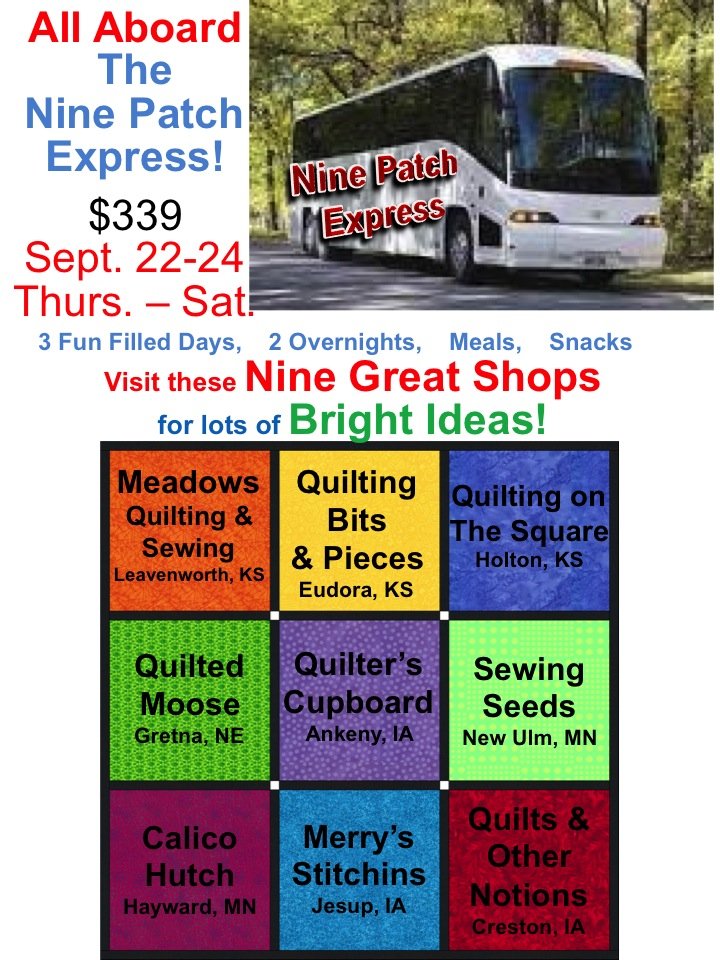 see www.MQsew.com for more details
2016-17 New Saturday Sampler

We are taking sign-ups for the 2016 - 2017 Saturday Sampler featuring Leavenworth's very own Quilter Hall of Fame Honoree, Carrie Hall (1866-1955). Blocks will be in a patriotic colorway with Stonehenge/Marblehead fabrics. Program is 9-months from September 2016 through May 2017. Sign up fee is $15.

Blocks must be picked up between 10:00am and 12:00pm, no exceptions. Bring your finished Block #1 to the shop between 10am-12pm on Saturday, October 1, 2016 and receive Block #2 FREE!!! If you don't finish your block or bring your block in before 12pm on the first Saturday, the next block will be $5.

We will have a demonstration at 10:30am and a drawing for all demo attendees to win the demo item! After demo drawing we will have a Show & Tell where customers can bring in their latest finished projects and be entered into an additional drawing!


Are you one of our out of town customers? Now you can participate in the Saturday Sampler too!!! Register online and pay your $15 sign-up fee. We will contact you for your billing and shipping information. You will be charged $5 + actual shipping cost per block each month. At the end of the program, if you choose to purchase the setting kit, we will deduct your $15 sign-up fee from your kit price. This is the first time we have offered the Saturday Sampler to our online customers.


New Block of the Month
Be Attitudes Quilt
by Nancy Halvorsen



$19.99 Sign-up fee, $19.99/mo
Starts in September

Includes fabric for blocks, borders and binding, embroidery floss, decorative buttons, and enough fabric to applique using either fusible or turn-under technique.

Want to learn how to Free Motion Quilt? Class on Saturday!!!


Let Tia show you how to free motion quilt and make a usable tote bag out of your sample work! Class is Saturday, Aug 20th
10:30am - 1:00pm $35



All Clearance Fabrics
40% off all orange stickers
50% off yellow stickers
60% off pink stickers
June 21 - September 6 Row by Row - Home Sweet Home
Stop in and pick up your license plate and FREE pattern designed just for our hometown of Leavenworth, Kansas

The Big House

Classes & Events:
Aug 20 - Quilted Tote Bag w/Tia 10:30am-1:00pm
Aug 25 - Applique Group 6:30-8:30pm (open group)
Aug 27 - Vintage Linens w/Deanna 10:30am-4:30pm
Sept 1 - Intro to Sewing w/Maureen 10:30am-2:30pm
Sept 3 - Saturday Sampler Block #1 10:00am-12:00pm
Sept 6 - Tahoe Tote Bag w/Maria 10:30am-2:30pm
Sept 7 - SPQG Compassion Quilt Sew-In 10:30am-5:00pm
Sept 7 - Quilting 101 w/Robin 6:00pm-8:00pm
Sept 8 - Intro to Hand Embroidery w/Vicky 10:30am-12:30pm
Sept 9 - Hexified Panel Part 1 w/Liz 10:00am-4:00pm
Sept 9 - MINI Hexified Panel Part 1 w/Liz 5:30pm-9:30pm
Sept 10 - Kids Sewing Club Reversible Headbands 10:30am-2:30pm


Our New Fall Class Schedule is online!!!