Newsletter 8-10-16
Aug 10, 2016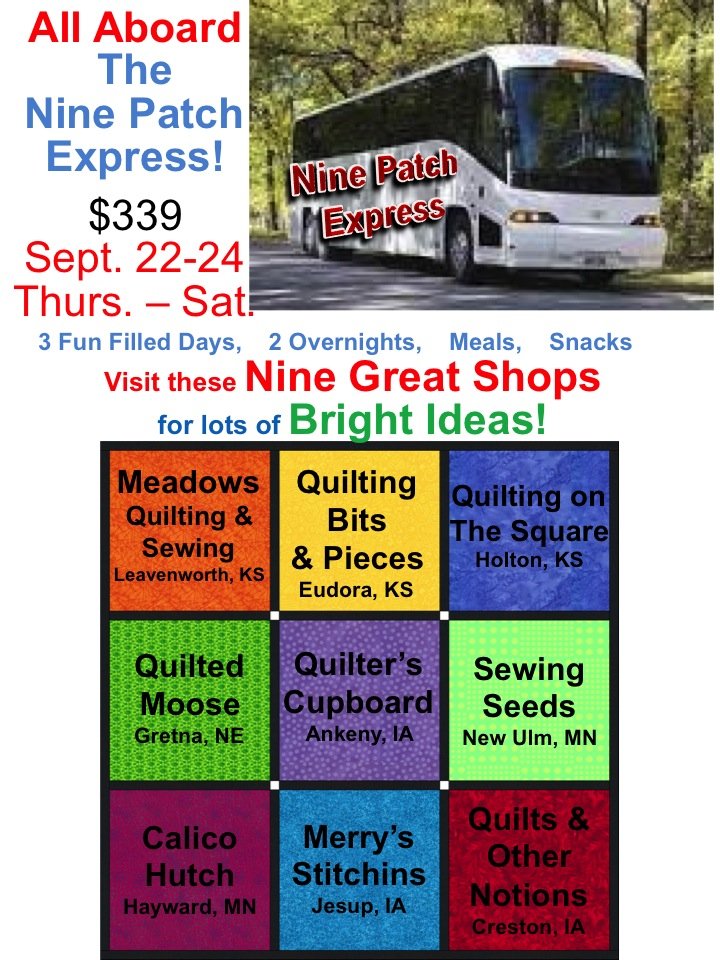 see www.MQsew.com for more details
2016-17 New Saturday Sampler

Don't forget to pick up your last block and your setting kit for the 2015-16 Saturday Sampler! If you signed up for a setting kit, it is ready for you at the register.

We are taking sign-ups for the 2016 - 2017 Saturday Sampler featuring Leavenworth's very own Quilter Hall of Fame Honoree, Carrie Hall (1866-1955). Blocks will be in a patriotic colorway with Stonehenge fabrics. Program is 9-months from September 2016 through May 2017. Sign up fee is $15.

Blocks must be picked up between 10:00am and 12:00pm, no exceptions. Bring your finished Block #1 to the shop between 10am-12pm on Saturday, October 1, 2016 and receive Block #2 FREE!!! If you don't finish your block, the next block will be $5.

We will have a demonstration at 10:30am and a drawing for all demo attendees to win the demo item! After demo drawing we will have a Show & Tell where customers can bring in their latest finished projects and be entered into an additional drawing!


Back to School Sale ends Aug 17th!!!


All Books in stock
Buy 1 Get 1 50% off


Art Gallery Fabrics 30% off*


*yardage cuts only, excludes Tapestry, Boardwalk Delight & Solids


All Clearance Fabrics
40% off all orange stickers
50% off yellow stickers
60% off pink stickers
Help us make room for the new fabric lines coming in.......
like My Sewing Room by Henry Glass!


We have a couple spots left for the Scrap Happy Sampler BOM!!!

Sign up in the shop or online.
June 21 - September 6 Row by Row - Home Sweet Home
Stop in and pick up your license plate and FREE pattern designed just for our hometown of Leavenworth, Kansas

The Big House

Classes & Events:
Aug 13 - Kids Sewing Club - Rope Bowls - 10:30am-2:30pm
Aug 16 - Quilts of Valor 11:00am-4:00pm (open group)
Aug 18 - Sit & Sew 10:00am-3:00pm (open group)
Aug 20 - Quilted Tote Bag w/Tia 10:30am-1:00pm
Aug 25 - Applique Group 6:30-8:30pm (open group)
Aug 27 - Vintage Linens w/Deanna 10:30am-4:30pm
Sept 1 - Intro to Sewing w/Maureen 10:30am-2:30pm
Sept 3 - Saturday Sampler Block #1 10:00am-12:00pm
Sept 6 - Tahoe Tote Bag w/Maria 10:30am-2:30pm
Sept 7 - SPQG Compassion Quilt Sew-In 10:30am-5:00pm
Sept 7 - Quilting 101 w/Robin 6:00pm-8:00pm
Sept 8 - Intro to Hand Embroidery w/Vicky 10:30am-12:30pm
Sept 9 - Hexified Panel Part 1 w/Liz 10:00am-4:00pm
Sept 9 - MINI Hexified Panel Part 1 w/Liz 5:30pm-9:30pm
Sept 10 - Kids Sewing Club Reversible Headbands 10:30am-2:30pm


Our New Fall Class Schedule is online!!!