Newsletter 7-27-16
July 27, 2016

150 days 'til Christmas, oh my!!!


Meadows Exclusive Kit!!!
Winter's Dazzle Tree Kit $34.99
Includes all fabric (panel, borders, binding & backing) AND BLING!!! Kits also include 50 heat-set crystals. Only 8 seams, makes a great quick gift for anyone.
Christmas in July sale!!!
Through the month of July, enjoy a 20% discount on Christmas fabrics, panels and kits; excludes new arrivals.

New Arrivals
Raindrop by RJR Cotton and Steel


We have a couple spots left for the Scrap Happy Sampler BOM!!!

Sign up in the shop or online.

June 21 - September 6 Row by Row - Home Sweet Home
Stop in and pick up your license plate and FREE pattern designed just for our hometown of Leavenworth, Kansas

The Big House

Classes & Events:

July 28 - Applique Group 6:30-8:30pm (open group)
Aug 1-5 - Kids Summer Camp 10:30am-2:30pm (ages 8 & up)
Aug 1 - Women of the Bible 5:00-8:00pm (open group)
Aug 6 - Saturday Sampler #12 & Setting Kit pick-up
Aug 13 - Kids Sewing Club - Rope Bowls - 10:30am-2:30pm
Aug 16 - Quilts of Valor 11:00am-4:00pm (open group)
Aug 18 - Sit & Sew 10:00am-3:00pm (open group)
Aug 20 - Quilted Tote Bag w/Tia 10:30am-1:00pm
Aug 25 - Applique Group 6:30-8:30pm (open group)
Aug 27 - Vintage Linens w/Deanna 10:30am-4:30pm

Stay tuned for our Fall Class Line-up!!!

Upcoming Events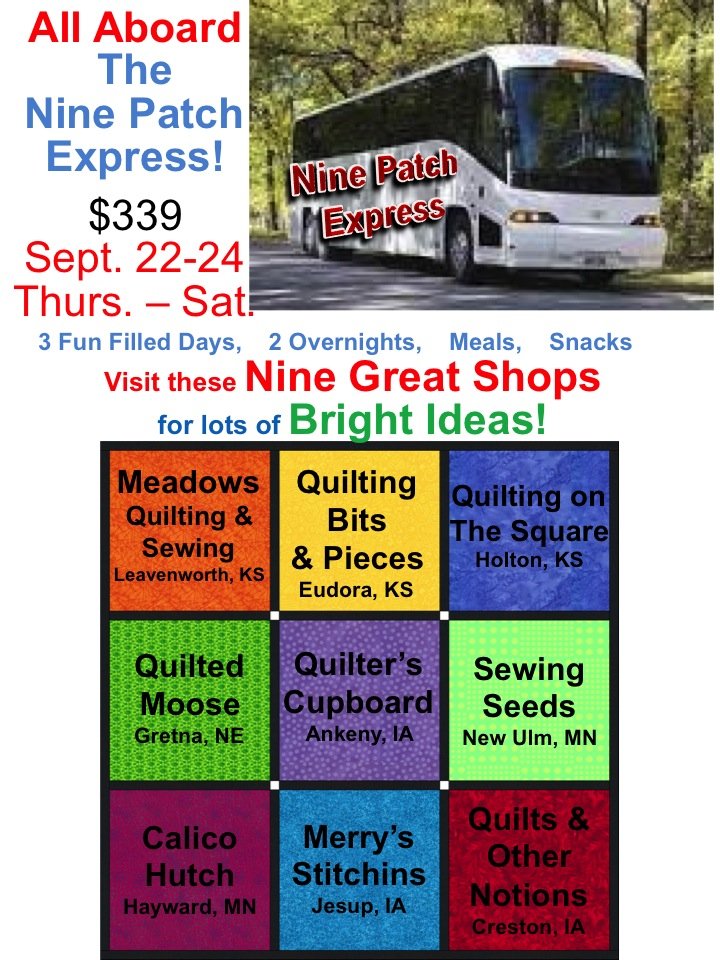 see www.MQsew.com for more details