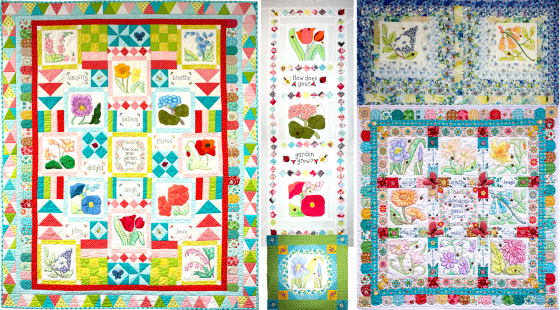 How Does Your Garden Grow, designed by Cat Nix, was inspired by the fabric panel, "Ruby's Flower Garden," manufactured by Paintbrush Studios. The classic floral designs were originally created by the well known quilt & needlework designer, Ruby Short Mckim of McKim Studios. These popular garden flowers were included in her "Flower Garden Quilt" which was originally published in the Akron Sunday Times in October, 1929.
Honoring these timeless treasures, Cat has created the How Does Your Garden Grow (HDYGG) series of patterns and technique classes that offer a little bit of everything for quilters who enjoy handwork & fabric embellishing. Whimsically textured in design, the selected floral blocks are colored, appliquéd and stitched. Projects range from 1 - 9 floral blocks. Combined with an assortment of patchwork & additional embroidery blocks, these quilts are a Joy to make & share.
#1 - July - Coloring Fabric
#2 - August - Appliqué (Needle-turn & Fusible Web)
#3 - September - Quilter's Embroidery Stitches Part 1
#4 - October - Quilter's Embroidery Stitches Part 2
#5 - November - Appliqué & Embroidery in patchwork blocks
#6 - December - Flying Geese 4-at-a-time & Making Mosaic Blocks w/Perfect Points!
A technique sample kit is included for each session ($10.00 value).

NOTE: We are researching distance learning options for those who prefer to participate from home. Please email us at info@firstcityquilts.com if you would like to participate remotely.
| | |
| --- | --- |
| Skill Level: | intermediate |
| Skill Details: | |
| Instructor: | Cat Nix |