Have you dabbled in hand embroidery or just wanted to learn some new stitches? Then this club is for you!!! Vicky will have a small project each month featuring a new hand embroidery stitch. You can build your stitch library while making little projects that can be used as gifts or even quilt blocks.

New 2020-21 quilt is reversed redwork (white thread on red fabric, or your choice of background). Vicky is making two samples, one with white thread on red background and the other black thread on batik. Here's a sneak peek at the first two blocks in each colorway.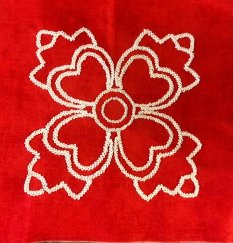 We do have a few rules:


- Please practice general politeness and refrain from using profanity and inappropriate talk
- When using your cell phone, please step away from the classroom to take calls
- Children are not allowed in the classroom unless they are attending a children's class or special arrangements have been made (ie. nursing mothers).
- Others may have allergies, please refrain from wearing heavy perfumes, lotions or sprays
- Covered beverages and snacks are allowed - there is a mini fridge and microwave available for your use. Please dispose of trash appropriately.
- Please allow time to tidy your work area before departing.
- Any questions or concerns, please ask staff or teacher.
- Our classroom has become a temporary haven for quilter's to get away from daily stresses and enjoy their love of quilting together, please respect the classroom and your fellow quilters.


By registering for this class/sew day registration page, I acknowledge the following: I agree to release and hold harmless First City Quilts LLC from any and all claims or liability related to any accident that may arise as a result of my participation in this program. I understand that sewing includes the use of machines, needles, scissors and other tools. These activities include risks that can cause or lead to injury. I grant permission to operate machines and to use tools and equipment. I give permission for first aid and/or medical treatment to be given if the need arises. PHOTOGRAPHIC RELEASE: I grant to First City Quilts LLC, its representatives and employees the right to take photographs of me in connection with sewing classes/sew days. I authorize First City Quilts LLC its assigns and transferees to copyright, use and publish the same in print and/or electronically. I agree that First City Quilts LLC may use such photographs of me for any lawful purpose, including for example such purposes as publicity, illustration, advertising, and Web content. I have read and understand the above. REFUNDS & WITHDRAWAL POLICY: You may withdraw from a class/sew day up to 3 (three) business days prior to the start date to receive a full refund or store credit. After that time, no refunds will be issued. First City Quilts LLC reserves the right to suspend a participant in a program due to inappropriate behavior. No refunds will be given for any participant who has been suspended from a program. There are NO refunds or credits for student absences. CLASS CANCELLATION POLICY: Classes are cancelled if Leavenworth and/or Lansing Schools have closed or have early dismissal due to weather. Notification via email will be attempted but not guaranteed if a class is cancelled due to poor weather conditions. Efforts will be made to make-up weather cancelled classes but are not guaranteed. Any class cancellations due to an illness of the instructor will be made-up or refunded. Make ups are not guaranteed. Refunds will not be offered due to a participant's inability to partake in missed make-up sessions. Refunds or class make-ups are not guaranteed due to a participant's illness or any other reason and are offered at the discretion of the instructor. Make-up classes for private and semi-private students can be scheduled with a minimum of one week's notice.
| | |
| --- | --- |
| Skill Level: | Beginner |
| Skill Details: | Beginner |
| Instructor: | Vicky Beasley |
| Instructor Bio: | Vicky Beasley |